How much time search engine optimization (SEO) takes to start working is always a pressing topic for our potential clients.
The problem in answering that question is that there's so much noise in digital marketing that many businesses start an SEO strategy with unrealistic expectations because their agency guaranteed they would "rank in three months!".
Unfortunately, SEO doesn't work that way.
There's no governing body in SEO, which means there is an overabundance of opinions and often misinformation. If you're here, you're probably excited, confused, or even scared, thinking about SEO and how long it can take to work.
Those feelings are valid. There are lots of questions about SEO, and none of them are as tricky to answer as "How long does SEO take?" Multiple variables play a role in how your website ranks and when or even if you'll see results from your optimization efforts.
Understanding how SEO works and the variables at play are crucial to succeeding in the search engine results page (SERP). You won't find a super-secret SEO hack to supercharge your SEO, but you'll get a real answer on how long SEO takes.
To help answer "How long does SEO take?" we first need to understand what SEO is and what influences your rankings on search engines.
Let's dive right in.
What is Search Engine Optimization?
SEO stands for "search engine optimization." It's the process of optimizing your webpages using multiple methodologies to rank higher in search engine results. SEO is referred to as an "organic" or "free" marketing strategy.
Every major search engine is comprised of search results, commonly referred to as a search engine results page, or SERP, which contains links to pages, videos, and local listings. These results are fluid and are ranked by an algorithm, and what the algorithm deems to best match a user's search intent.
As we all know, Google is the largest search engine in the world. But SEO is mostly the same across other search engines like Bing, DuckDuckGo, and Yandex. To Northcutt, SEO is one big algebra equation, and you wouldn't try to solve an algebra equation without all of the variables, would you?
There are three significant components of SEO that directly impact your rankings, and each component is comprised of hundreds of variables commonly referred to as ranking factors. These three pillars are:
On-page SEO
To better understand on-page SEO, we first need to know how search engines work. We know that search engines use an algorithm to rank the content that displays on their search engine results page. But how does the search engine collect the content?
Search engines use crawlers (spiders) to discover new webpages on the internet. Search engines use databases (commonly referred to as indexes) to store URLs and other website information. When you run a search on Google for "where to buy a blue fishing boat," the search engine (Google) is displaying results that are included in their indexes.
Any page optimization would be considered On-Page SEO. There are multiple on-page SEO ranking factors, but a few common factors are:
Internal Link Anchor Text
Mobile Friendliness
Distribution of

Page Authority

Keyword Stemming
Off-Page SEO
Off-page SEO is commonly referred to as "link building," the process of improving your website's inbound link profile with authentic, relevant, and high-authority links from other domains.
Off-page SEO applies to any tactic that is used outside of your site. For example, if I ask a blogger to link to my article, that would be Off-page SEO.
A comprehensive off-page SEO strategy focuses on building a strong inbound link profile for your website. You can achieve this by attracting authentic and high-quality backlinks.
Several proven strategies will help you earn backlinks.
Struggling to build your backlink strategy from scratch? We've got you covered.
Technical/Strategic SEO
Over the last few years, Google has vastly improved its search engine, and with those improvements came added complexity for website owners. Content and links will move the needle, but if Google can't properly crawl your site, you're going to be fighting a losing battle.
Technical SEO is the practice of optimizing your website and infrastructure to help search engines properly crawl and index your website more efficiently.
If Google and other search engines have trouble crawling and indexing your website correctly, you'll have an uphill battle increasing your organic rankings. Common Technical SEO optimizations are:
Optimizing your site speed
Using HTTPs
Correctly using redirects
Removing redirect chains
How long does SEO take to work?
Spoiler: It depends.
Most SEO agencies will tell you that it typically takes about 4-6 months to rank and while this isn't false, we commonly see:
Google even offers up a timeline, stating that it takes 4-12 months to achieve significant success.
We've had multiple clients achieve SEO success before the 2-3 year mark. Recently, we helped Decorilla increase their organic traffic by 218 percent from December 2018 - December 2019.
Why does SEO take so long?
Over the years, Google has improved its algorithms and its search engine. In the late 2000s, a lot of "short cut" tactics could propel your search engine rankings (meta keywords, anyone?). But of course, that led to poor user experience for searchers.
Google has vastly improved its UX by continually optimizing its algorithm, and with each optimization, it became more challenging to rank. Quality rules in today's market and that alone will add to the time it takes for your website to rank.
Let's take a look at the factors that will determine how long it takes for you to rank and how low-quality SEO will extend your ranking timeline.
Your competition is investing in SEO too
There was a time when SEO was unknown to most businesses, and the businesses who knew about SEO didn't place a lot of importance on SEO. This lack of knowledge opened up opportunities for smaller businesses to move up the SERP quickly.
This isn't the case anymore. SEO adoption has grown, and companies are heavily investing in SEO, building out their in-house SEO teams, and augmenting their in-house teams with agencies to maximize their organic reach.
Think about how much you're investing in your SEO campaign. Your competition is at least investing as much. The quality of your competition can impact how long it takes for you to see results, and of course, if no one is actively optimizing for your keywords, you'll see results a lot quicker.
Quality vs. Quantity: Does it impact SEO?
Here's a scenario for you: Your competition is outranking you on high-value keywords, and you feel pressure from within your organization to dethrone them in three months. You may want to look for an SEO agency that will tell you they can accomplish this in two months and make all of your dreams come true.
Don't get caught up with moving 100 miles-per-hour; today, quality matters. Quality backlinks, quality content, and a quality website go a long way in ranking in today's market.
Let's look at the various factors that impact how quickly you'll rank and discuss the dangers of opting for fast results.
White Hat Link Building vs. Black Hat Link Building
Link building is one of the most important aspects of SEO, and there's no denying the impact of quality backlinks.
On the surface, link building can appear to be all about volume. The volume of backlinks/referring domains is a factor, but you can't rely solely on raw numbers.
This is where quality comes into play. You can buy thousands of backlinks from sites like Fiverr and Black Hat World, likely from low-quality domains, and of course, you're risking your domain using Black Hat SEO tactics.
As Google says, "Any links intended to manipulate a site's ranking in Google search results may be considered part of a link scheme and a violation of Google's guidelines."
Google takes this seriously, and you can see why. A quick search on Fiverr gives you 6,411 providers of "backlinking."
There are 3,450 providers charging less than $10. This may seem tempting if you're looking for a low-cost approach, but...
DO NOT DO THIS...
You may see a temporary spike in your rankings, but it won't last long. You'll be on top of Mount Google until the next algorithm update thrusts you from the top of the mountain into the depths of the unknown.
Instead of buying links and partaking in Black Hat SEO, you should build high-quality backlinks from authoritative domains.
What is a quality backlink?
Multiple factors come into play. Let's look at what makes a quality backlink.
High relevance
You'll want to acquire backlinks from other websites in your niche. Think about it: if you're running a blog about SEO, you wouldn't want to acquire links from a blog about dental hygiene.
Even if the site is in the same niche as you, make sure you check that the website is mostly linking to other content that is in your niche.
Authority
High quality and authoritative usually go hand-in-hand, but what makes a domain authoritative?
You'll want to look for domains that have a high number of high-quality referring domains, and a domain that ranks well organically.
Now, you may want to hit the ground running building backlinks as quickly as you can, but you want to also refrain from moving too fast. Sudden spikes in your backlink profile could appear unnatural to Google, and that sudden spike could be seen as an attempt to manipulate PageRank.
You want to avoid huge unnatural spikes in your backlink profile. Below is an example of a backlink profile that appears to be unnatural.
Instead, your backlink profile should appear more natural, like the example below:
How do I build high-quality, white hat backlinks?
Start guest posting! Guest posting is the most reliable way to build authoritative backlinks. It is (as you might expect) very time-consuming. But the results can be game-changing.
There are other benefits to guest posting (brand awareness, individual profile growth, networking, etc.), but we can put those to the side for now.
How to start guest posting:
If you're stuck trying to identify those businesses which you should write for, you can always reach out to peers in your industry.
For instance, type "freelance + writer + [your industry]" into Linkedin and see who pops up:
Then, scroll through these people's social media feeds (or search their name on Google) to quickly identify who they're writing for.
Alternatively, check out this list of SaaS companies which accept guest posts: https://docs.google.com/spreadsheets/d/1wifaZg_7FFnwT4CcbXke1SUsLdorC6vkX13g414ZnE0/edit?usp=sharing
Build links through outreach
The second strategy we'll discuss is simple: ask for a link. It's actually a little more complicated than that, but not too much.
Before we dive into how you can convince a publisher to add your link to their page (for free, avoid paying for links), we have to clarify something...
Don't half-ass your link-building outreach.
Let's say you approach 100 businesses with a request for a backlink. If your email has grammatical errors, spelling errors, an incorrect first name, or any other dozen harmful elements, you'll be lucky to get a single positive response.
However, with the right approach, a well-written letter, and quality content pitched, you can expect 25-50% positive responses.
The broken link route:
A website's broken links are an opportunity for a mutually-beneficial arrangement.
The website with the broken link is getting an SEO hit, and your business needs external links to boost your ranking.
Replacing the broken link is a win-win.
Step one: Identify articles with broken links.
You'll need to pay for a tool to do this, as doing it manually is next to impossible.
A few of the top providers:
These tools will give you an exportable list of publishers who have written content around your target subject.
Step 2: Go to the specific article and see exactly which linked text is giving an error:
Step 3: Reach out
Once you've identified publishers with broken links, it's time to reach out.
You can do this individually (which I recommend) or with email automation. The reason I recommend individual outreach is that the results will pay for the increased work almost immediately.
Personalizing emails is challenging, even with the best marketing automation tools. And only through personalization will you get results.
And it's unlikely you'll have 1000 broken links in your target keyword list anyway.
Do your homework. Read the post and find something to show you did. Then mention it (alongside a first name), and you'll see huge increases in positive responses.
Does domain age impact your SEO?
Yes, it does, but Google isn't ranking domains solely on domain age. If you're starting with a new domain, you'll likely be starting with no backlinks. As outlined above, backlinks are a crucial component in ranking, and gaining quality backlinks from authoritative domains takes time.
Established domains generally rank better when compared to new domains, but it's not due to age alone. These domains have built backlinks, and they have built content. They have skin in the game.
A study conducted by Ahrefs revealed that the average age of domains ranking within the top 10 results in Google is around two years or more.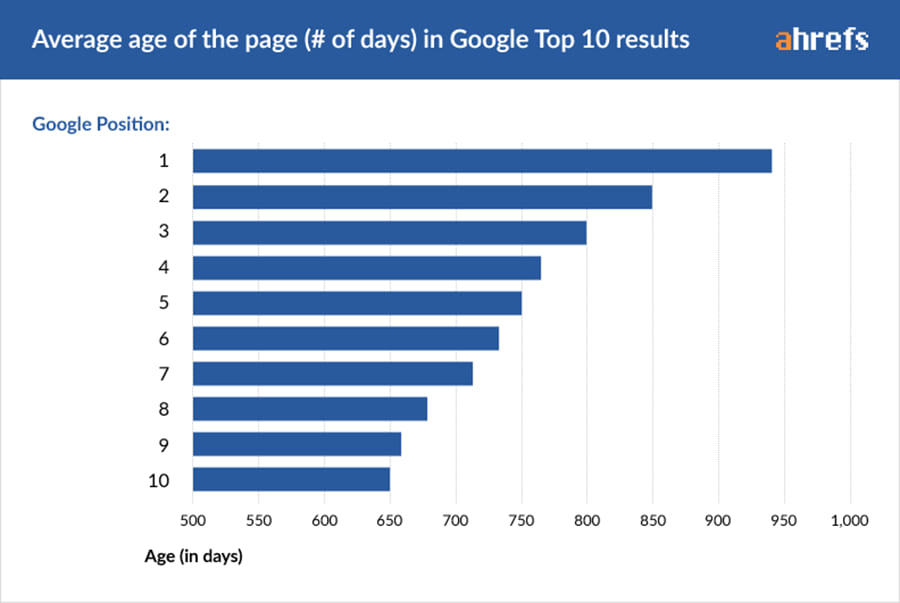 The study also discovered that 95% of newly published pages don't get to the Top 10 within a year. If you're starting with a new domain this doesn't sound promising, but don't panic! You can rank, but you'll likely see significant results in 1-2 years, depending on the keywords that you're targeting.
Avoid common SEO mistakes
There is no one-size-fits-all SEO strategy. Cookie-cutter SEO doesn't work because each website is unique, and the variables are different. Taking the same approach to SEO with every website is like trying to solve an algebra equation while ignoring the variables.
If you're rolling out a new project, it's going to be a long-term effort. And if you're working with an SEO agency, they should communicate this from the start.
If they make promises like guaranteed page-one rankings or their pricing seems too good to be true, run for the door. The truth is, it may take as long as six months to see results. It will be a multi-year effort to compete with the leaders in your space. In other words, this won't happen overnight.
Don't fall for "guaranteed" page-one rankings
Quality SEO requires an investment. As tempting as it may be to hire an "agency" for $29/mo with a shiny guarantee of ranking you on page one, this is something you should avoid like the plague.
If you go down this route, you'll cut your costs, but you'll spend more time playing clean-up than actually advancing up the SERP. You want to work with someone who is transparent from the initial introduction and keeps you in the loop during your engagement.
Don't ignore your content marketing strategy
Your content needs to have value. Next to backlinks, quality content is one of the most important factors determining how quickly you'll rank on Google. Let's face it: if your content is low-quality, you're going to be fighting an up-hill battle with your link building efforts.
You can build thousands of backlinks to your website, but if you're churning out content that has little to no value from Fiverr, your results will be less than ideal.
Sure, you could head over to Fiveer and order 100 articles from its content farm for $25 a pop intending to add as many pieces of content to the index as possible. But don't get caught up on word count or the number of pages indexed; neither are ranking factors. Instead, your focus should be on producing content that solves searchers' issues.
That may be a 500-word article, or it may be a 3,000-word article. The length of your content depends on the topic and what type of content currently ranks (well) on Google for this topic.
You don't have to pull out your wallet and pay for a shiny new SEO tool to create content that ranks well. Just Google the keywords that you're writing about and voila!
Be sure to make a note of the structure of their content and the sub-topics covered. Your goal is to create a higher quality piece of content that is unique to you and your business.
Don't forget about your site structure and internal linking
Unfortunately, internal linking is overlooked when asking, "How long does SEO take?" We've established how important backlinks are to SEO, but what about the internal links that exist within your website?
It's important to remember that internal links pass PageRank! The idea is simple but is often ignored. You want to pass PageRank from pages with the highest PageRank to pages with the lowest PageRank
How do you do that? Internal Linking.
I'd be remiss if I didn't include one of the best resources that I've seen on maximizing your SEO efforts via internal linking.
If your site is difficult to crawl, Google will have trouble properly indexing your content, which can lead to delays in your content ranking.
Can I speed up the timeline?
Yes, and no. SEO is a long-term strategy, and like many investments, if you're looking for overnight returns, you're going to be disappointed.
However, you can deploy creative strategies to ramp up your SEO on low competition keywords. Targeting low competition keywords that have business value can augment your SEO strategy. Creating comparison content works exceptionally well, and it's targeting the bottom of the funnel, which means this content will convert at a higher clip.
Podia is an excellent example of building out comparison content. These pages don't have a high number of linking domains (most of them <5 linking domains). However, they all rank well for the branded queries of their competition, and over 10 percent of those who visit become customers.
They produced high-quality content that satisfied search intent and augmented that with their internal linking. Podia's Kajabi comparison page brings in an estimated 2,000 organic visitors per month!
This strategy works exceptionally well because branded queries are often low-competition, and many users search for alternatives.
Regardless of size, this is a strategy that could pull in results within a few months and, most importantly, increase your revenue.
Conclusion
SEO is not a one-size-fits-all strategy. Multiple variables will impact how long it takes for your website to rank. Staying consistent is critical. SEO is going to be important to your success even if you don't see results after three months. Creating and tracking meaningful KPIs will let you know if you're going down the right path.